If you love tequila, or if you're even partial to it, you'll enjoy this quick cocktail recipe that uses a lime-flavored tequila. The tequila does most of the work but I've added a few ingredients to kick it up a notch!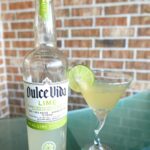 Ingredients
3 oz. Dulce Lime Vida Tequila

1 oz. Club Soda

Agave Nectar (to taste)

Japalapeno (optional)
Instructions
1. Fill cocktail shaker with ice.
2. Add all ingredients into cocktail shaker.
3. Shake vigorously for 1 minute.
4. Drain and serve in chilled martini glass.